striving for excellence in the service we provi

de!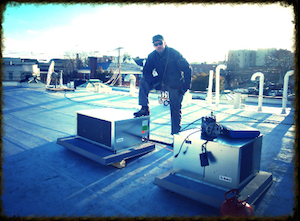 Our mission is to provide the highest quality of service to our clients by increasing the safety and efficiency of their existing systems, recommending the state-of-the-art in new systems, and educating them as to the most cost-efficient plan for their personal and/or commercial needs. Supercool Co RHVAC also aims to play a productive role in advancing the technology that provides quality/cost-effective solutions for Americans. 
OUR HISTORY
Scott Halfmann's first contact with HVAC was in 1992, working with Catoctin Road and Bridge Company in Virginia at the age of 22. Supercool company was first established in 1998.
At the age of 27, after working in the refrigeration and HVAC field for five years, two years in New York City, he opened his own shop in Brooklyn with a focus on air-conditioning, refrigeration, heat pumps, refrigeration for produce markets, and high-end, designer refrigerated cabinets.
Throughout the years, Supercool Co RHVAC grew, as did its skill level and commitment to craftsmanship, durability, exceptional guarantees, high standards in system-safe design and quality materials.


Supercool Co RHVAC's main goal is to grow a small, family-owned business, provide employment opportunities, and maintain the highest standards of quality in the RHVAC field.

 

customer courtesy and professionalism on job-sites are what set supercool apart.
Licenses & Certification
conEdison Certified Contractor 

Environmental Protection Agency Lead User Certification (EPA)